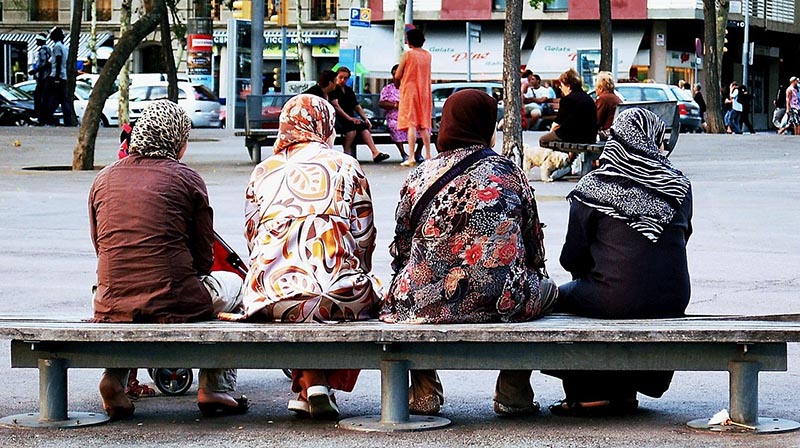 While ARG is known for its population-based analyses of how drinking and other drug use affects our health, it is also a place where scientists engage and foster partnerships with community-based organizations to support the people they serve.
One such researcher is Associate Scientist Camillia Lui.  Since her career began, Lui has looked at health-related disparities among racial/ethnic groups and adolescents and young adults.  For Lui, whether measuring drinking rates or investigating treatment outcomes, making a difference on the ground always comes down to two fundamental questions: why is it that some people have worse health outcomes than others and what can we do about it?
It is the answer to the latter question that Lui will explore in her most recent work with the California Reducing Disparities Project (CRDP), where as a sub-contractor, Lui will support Special Services for Groups (SSG) in their efforts to help community-based organizations design and implement their own evidence-based programs (EBP). The project, which will serve Asian and Pacific Islander (API) communities in California, is designed from the ground-up versus top-down. The goal is to provide organizations with the right tools and resources to develop an EBP that truly meets the needs of that community, and to document program success.
The CRDP, a 5-year project of the California Department of Public Health, Equity Office, aims to reduce mental health disparities across five target populations that include African American, API, Latino, Lesbian, Gay, Bisexual, Transgender, Queer and Questioning (LGBTQ), and Native American communities.  SSG serves as one of the technical assistance providers assigned to each group to provide support in all areas of program planning, implementation, evaluation, and organizational capacity building.
"This project offers an opportunity for me to work with Asian American and Pacific Islander communities from a research and evaluation lens," said Lui. "It's such critical work and I'm honored to be a part of it."
This type of work helps keep Lui grounded on the front-lines. As a program evaluator for Asian American Drug Abuse Program in Los Angeles, Lui helped in their prevention efforts to reduce youth access to alcohol, marijuana, and other drugs through community organizing, educational campaigns, and local city policies.
"One of the things this organization really values is having data to inform their work, and my role has been to help them collect or find data, interpret what it means for their community, and how they can disseminate it to youth, parents, and local policymakers. While staff are learning about research and data collection strategies, I'm learning about community concerns, how to disseminate data that's user-friendly and easy to understand, and how local policies can prevent youth substance abuse."
Lui is also involved in several key studies at ARG, and is part of the research team for  the National Alcohol Research Center's policy project, led by Center Research Project Director and Scientist Nina Mulia, which will assess whether the Mental Health Parity and Addiction Equity Act and the Affordable Care Act produced any unintended consequences in terms of who is accessing substance abuse treatment services and disparities in the uptake of treatment services.   Her work on the project involves socioeconomic disparities, a topic she explored in her dissertation when she looked at how changes in socioeconomic status during youth's transition to adulthood can drive heavy drinking and smoking using data from the National Longitudinal Study of Adolescent to Adult Health. Lui is also investigating SES differences in treatment participation and long-term outcomes among adolescents who entered substance abuse treatment in Kaiser Permanente Northern California's outpatient programs.
Lui plans on researching the topic further by looking at alcohol-related disparities in college-aged youth in treatment and general population samples.  She hopes this kind of research can provide much-needed insight into how education, a driver of socioeconomic status, affects people's decisions to use or not use substances, how it can influence people's access and navigation of treatment services, and ways we can intervene via education as a strategy to reduce disparities.
When asked about the impact of such future studies, Lui responded, "I want my work to support communities by giving them access to data, knowledge of what the data mean, and empower them to use data in their work. Community-based organizations want that – they want data to better inform what they do so that the programs and services they deliver are effective and reaching the people that need them the most."
It's certain that no matter which projects Lui takes on next, she will continue to search for answers to help eliminate health-related disparities.
And she'll do it, one community at a time.
Further reading 
California Reducing Disparities Fact Sheet (PDF)
CRDP Phase 1 Population Reports: https://www.cdph.ca.gov/programs/Pages/StakeholdersGeneratedReports.aspx
Cook W.K., Karriker-Jaffe K.J., Bond J., Lui C. (2015). Asian American problem drinking trajectories during the transition to adulthood: ethnic drinking cultures and neighborhood contexts. American Journal of Public Health, 105 :1020-1027.
Lui CK, Chung PJ, Ford CL, Grella CE, & Mulia N. (2015). Drinking behaviors and life course socioeconomic status during the transition from adolescence to adulthood among Whites and Blacks. Journal of Studies on Alcohol and Drugs, 76 (1) 68-7. 
Lum C, Mays V, Corliss H, Cochran SD, and Lui CK. (2009). Differences in drinking behaviors among Chinese, Filipino, Korean, and Vietnamese college students. Journal of Studies on Alcohol and Drugs, 70(4), 568-574.
Choudhury PP, Badhan NS, Chand J, Chhugani S, Choksey R, Husainy S, Lui C, and Wat EC. (2009). Community alienation and its impact on help-seeking behavior among LGBTIQ South Asians in Southern California. Journal of Gay and Lesbian Social Services, 21, 247-266.