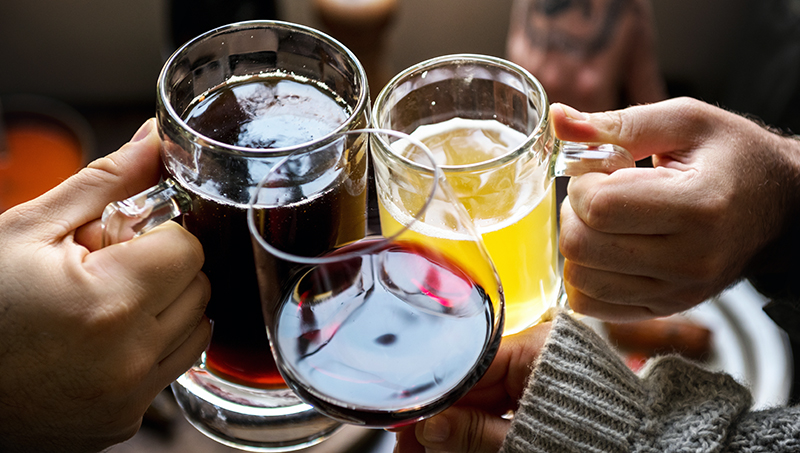 ---
September 19, 2023 –New research published in The Journal of Racial and Ethnic Health Disparities, found that older non-Hispanic white adults with diabetes or a heart condition were less likely to engage in at-risk drinking than their counterparts without any of four major health conditions, including diabetes, cancer, hypertension, and heart conditions. However, among older Black, Hispanic/Latinx, and Asian adults, at-risk drinking rates were similar between individuals living with and individuals living without these health issues. This disparity raises the question of why some race and ethnicity groups continue drinking at risky levels even with a health condition diagnosis.
The study, At-Risk Drinking in US Adults with Health Conditions: Differences by Gender and Race and Ethnicity in the National Survey of Drug Use and Health, 2015-2019, is the first to compare at-risk drinking among people aged 50 and older living with one of four health conditions to people living without them, and to further investigate by race and ethnicity.
"Our results show that some people who experience major changes in health status may not make shifts in their drinking behavior. This could be due to not being able to access ongoing provider care and consequently the critical health information when it comes to drinking and living with a chronic disease. Most people receive this health information and education directly from their providers, and yet disparities in access to health care services continue to persist for people of color who have been systemically marginalized. These groups also carry the greatest burden of risk from chronic health conditions."
The research team suggests other factors may also be at play, including cultural differences and a lack of appropriate and effective health messaging tailored to communities of color. Further research is needed to better understand alcohol-related disparities in order to advocate for effective health interventions among racial and ethnic minoritized populations.
"Since alcohol consumption could have a significant impact on disease progression, we need to address these alcohol-related disparities if we are to better support people as they age."
Researchers analyzed a nationally representative sample of adults drawn from the 2015-2019 National Survey on Drug and Health data. At-risk drinking was defined as drinking more than the U.S. recommended weekly amount of seven drinks for women and 14 drinks for men.
The study "At-risk drinking in US adults with health conditions: Differences by gender and race and ethnicity in the National Survey of Drug Use and Health, 2015-2019" by Christina Tam, William C. Kerr, Won Kim Cook, and Libo Li is available at: https://doi.org/10.1007/s40615-023-01621-6
____
Support for this paper was provided by the National Institute on Alcohol Abuse and Alcoholism (NIAAA) under award number P50AA005595 (W.C. Kerr, PI) at the National Institutes of Health. The content is solely the responsibility of the authors and does not necessarily represent the official views of the National Institutes of Health.