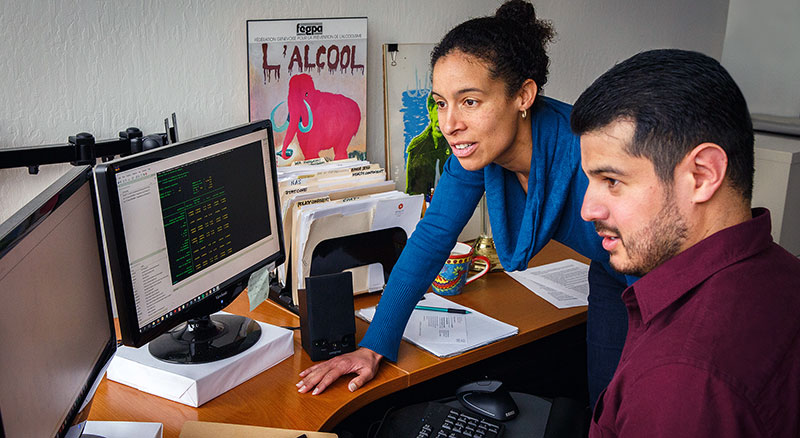 ---
The postdoctoral fellowship offers the opportunity to work with leaders in the field and can be a critical stepping stone toward becoming an independent investigator in addictions research.
The postdoctoral training program is appropriate for:
Recent doctoral graduates wishing to increase their research experience and establish a publication record in alcohol studies.
Established researchers seeking to make a transition to the alcohol studies field.
Scholars who are new to alcohol studies are welcome to apply.  Recent doctoral graduates are eligible if they are seeking a transition from related fields of study or if they are continuing previous study in the field.  Established faculty are eligible if they have not previously conducted research in alcohol studies.
Applicants must satisfy all of the following specifications:
Applicant must possess a Ph.D. or foreign equivalent (conferred less than five years ago)
Proposed appointment may not total more than five years of service including previous postdoctoral experience at other institutions
Applicant may not have been employed as an assistant professor, associate professor, or professor
Postdoctoral positions are typically two years in duration.  The second year of funding is contingent on the approval of a second-year project and on successful completion of the first-year requirements.  Postdoctoral trainees will receive a monthly stipend, health benefits, and a travel allowance for conference attendance and professional development.  Stipends are $60,000 – 62,220/year.  Additional research employment is often available. There is the possibility of hybrid work – remote and in-person.
Postdoctoral fellows are eligible to participate in the UC Postdoctoral Scholars Benefits Plan (through the University of California, Berkeley), which includes medical, dental, vision, life, accidental death and dismemberment, and disability insurance, as well as workers' compensation.  Their families are also eligible to participate in the medical, dental, and vision plans.
Applications will be accepted from U.S. citizens or permanent residents who have earned a doctoral degree, or are within 3 months of their filing date; applications are reviewed by the Research Fellowship Committee, which meets at regular intervals throughout the year.  Please prepare your application using the "Postdoctoral Fellowship Application Requirements Checklist" and submit it to the email address below.
Application Requirements Checklist
Your application form (below) should include the following materials:
Cover letter (please include how you heard about our training program).
Recent curriculum vitae.
Graduate transcripts and standardized test scores (unofficial documents are acceptable).
Two samples of writing: at least one should be solo-authored (e.g., for a class), reprints of articles, dissertation chapters, and/or reports, etc.
Statement of purpose (2-3 pages, single-spaced) addressing the following questions:

Why are you interested in alcohol research?
What experience do you have in alcohol and drug research to date?
What are your long-term career goals in the alcohol field?
What are the specific and realistic aims of your postdoctoral study, and how do you see the fellowship building on your current skills and contributing to your long-term career goals?
Who are your first and second choices for an ARG mentor, and why? (A trainee must have one ARG Scientist as a mentor, but Affiliate Scientists will be considered as a co-mentor.)
What products do you envision coming out of your two years at ARG?
Additionally, we ask you to provide:
Three letters of recommendation.  Letters should be addressed to the Research Fellowship Committee and emailed directly from the recommender to kkapiteni@arg.org
In the application, you will be asked to share the following information:
First and second choices for an ARG mentor. A trainee must have one ARG scientist as a mentor, but we will consider an Affiliate Scientist as a co-mentor. We strongly recommend that you make contact with the potential mentors before submitting your application. If you are unsure about who would be the best fit, please reach out to Kwinoja Kapiteni.
Racial/ethnic minorities and those from disadvantaged backgrounds are encouraged to apply. For NIH-reporting purposes, we ask that you please describe whether you are part of any under-represented groups as defined by NIH here:  https://diversity.nih.gov/about-us/population-underrepresented
Before submitting your application, please read the Training Overview page and contact Kwinoja Kapiteni for further details.
---
T32 Postdoctoral Application
Before submitting the following application form, please ensure you have the the first 5 application materials detailed above in the Application Requirements Checklist ready to upload into the form. You may contact Kwinoja Kapiteni with questions.
"*" indicates required fields