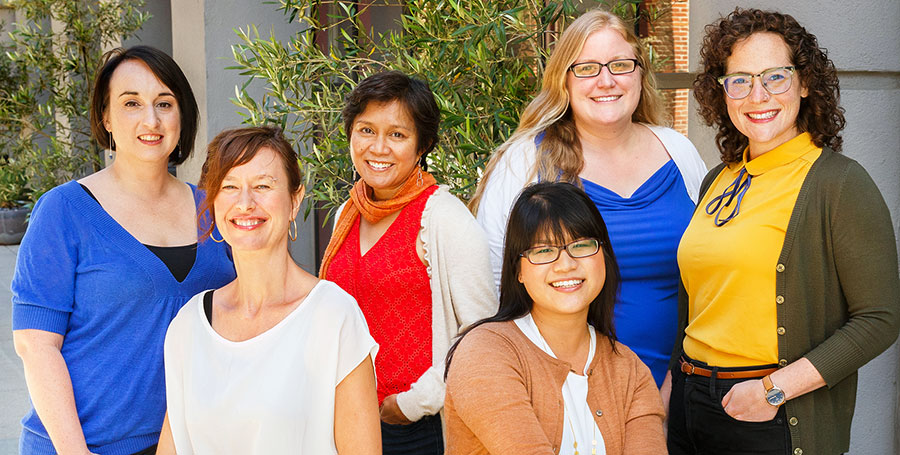 ARG, in partnership with the School of Public Health at the University of California Berkeley (UC Berkeley), offers a training program that provides support and training to both pre- and postdoctoral fellows engaged in alcohol- and drug-related research. Our program is funded by a National Institute on Alcohol Abuse and Alcoholism (NIAAA) grant titled "Graduate Research Training in Alcohol Problems: Alcohol-Related Disparities" (grant # T32AA007240), and has supported over 280 trainees since 1971.
Our Center
ARG is an NIAAA-funded National Alcohol Research Center housing experts from diverse fields, including public health, epidemiology, psychology, and economics.  Our research addresses a wide range of topics, from basic epidemiology to clinical and health services research, using a variety of methods, including survey research, ethnography, clinical trials, and public health interventions.  Since 1979, ARG has periodically conducted large, national-probability surveys of Americans' drinking and drug use, enabling us to describe emerging trends in alcohol and drug consumption and problems; understand age, period, and cohort effects underlying such trends; study methodological issues in the measurement of alcohol and drug use; identify individual and environmental influences on alcohol and drug outcomes; and more.  ARG also houses many other local and national datasets, facilitating sophisticated analyses relevant to understanding, preventing, and treating alcohol and drug problems.
Specific examples of several ongoing opportunities and projects include:
HEALTH DISPARITIES IN ALCOHOL-RELATED PROBLEMS AND SERVICES USE
Recent research shows persistent racial/ethnic disparities in certain alcohol problems and high unmet treatment need among Black and Latina women.  Multiple national datasets are being used in several projects to explore how race/ethnicity and socioeconomic factors relate to the development and persistence of alcohol problems, and to understand how these factors relate to alcohol services utilization.
IMPACT OF COVID-19 ON DRINKING, SUBSTANCE USE AND MENTAL HEALTH IN THE US
This study looks at changes in drinking patterns, substance use and mental health measures from before to during the C-19 restriction period, associations between drinking patterns and C-19 risk behaviors and behavioral health care need, access and utilization with attention to racial/ethnic and socioeconomic disparities.
SECONDHAND HARMS FROM ALCOHOL & DRUGS: IMPACTS ON FAMILIES AND COMMUNITIES ACROSS THE US
This study's US population survey looks at the negative impacts of alcohol, tobacco and drugs like marijuana, opioids and methamphetamine on people other than users themselves. The study identifies relevant risk factors of individuals, their social environments, and their neighborhoods and communities. Results also will provide evidence to inform debates on effective policy strategies to reduce alcohol- and drug-related harm.
ALCOHOL AND CANNABIS POLICY RESEARCH CONSIDERING CROSS-IMPACTS
Significant changes in both alcohol and cannabis policies and regulations have occurred in recent years. Research using the National Alcohol Survey (NAS) is describing trends in cannabis use and relationships between cannabis and alcohol use patterns.  A project in the state of Washington is studying ongoing effects of both alcohol and cannabis policy changes, considering the possibility of cross-substance effects.
POPULATION TRENDS AND OTHER TOPICS IN THE NATIONAL ALCOHOL SURVEYS, 1979-2015
Data suggest alcohol consumption and problems have gone up in the U.S.  Analyses of the NAS data are ongoing to describe trends in alcohol consumption; the impact of taxation and other economic factors on consumption; alcohol measurement issues; and alcohol's impact on health and mortality.
CLINICAL AND HEALTH SERVICES RESEARCH
The treatment system is continually evolving, as are treatment technologies.  Clinical and health services research at ARG is rich and includes the study of sober living houses; mutual help groups; treatment motivation; new treatment technologies; and research on defining recovery, among other topics.
Leadership
The Director of the training program is William C. Kerr, PhD.  He is also a senior scientist and Director of the Alcohol Research Center.
Our Training Program
Fellowships at ARG provide research training in the study of alcohol and drug use and problems, and are oriented toward the pursuit of basic and applied socio-behavioral and epidemiological research.  Training focuses specifically on study of the prevalence, distribution, etiology, and treatment (both formal and informal) of alcohol abuse, alcohol dependence, and alcohol-related problems.  However, some focus is devoted to drug use and drug-related problems.  Health disparities are a central theme of both our training program and ARG broadly.
Eligibility and Terms of Fellowship
Fellowships are typically two years in duration for both pre- and postdoctoral fellows.  Predoctoral fellows conduct alcohol or drug research related to their dissertation topic under the supervision of a mentor.  Their dissertation research need not centrally concern alcohol or drugs, but fellows are expected to publish at least one paper addressing alcohol and/or drug outcomes as a product of their research.  Postdoctoral training focuses on the cultivation of independent scholars, and thus, the first year of the program focuses primarily on supporting the fellow in writing a small grant application (typically, an NIAAA R21 or K proposal).  During their second year, postdoctoral fellows initiate and complete a second-year project, which may be either a) a comprehensive review of the literature or b) a supervised analytic project developed and executed by the trainee.  Postdoctoral fellows are also expected to publish papers from their dissertation during their training.  All trainees benefit from attendance at ARG's weekly Advanced Alcohol Research Seminar, brown bag presentations at ARG, offsite conferences, and regular meetings with their ARG mentors.  A travel allowance is provided to facilitate conference attendance and networking, and ARG hosts ongoing statistical seminars and trainings to facilitate the acquisition of cutting-edge methods and analytic techniques.  Additional training and support are provided by ARG's statistical department.
Fellows must be U.S. citizens or permanent residents. Predoctoral fellows must be University of California students, and postdoctoral fellows must have academic or professional doctoral degrees.  Although some of the research at our Center focuses on clinical issues, fellowships are not appropriate for persons interested primarily in clinical practice.  Applicants with interest in health disparities will be given special consideration, although others will also be considered.
The Mentoring Relationship
Mentoring is key strength of the training program's success. Fellows work closely with scientists who are experts in their area of study.  If you are interested in a fellowship, please peruse our scientists to determine whether one or more may be an appropriate mentor for you.
Further Information
Consult the Predoctoral Fellowship or Postdoctoral Fellowship pages as appropriate, for application information.
For more information on the program and application process, please contact
Kwinoja Kapiteni, Training Program Administrator
Alcohol Research Group
6001 Shellmound Street, Suite 450
Emeryville, CA 94608-1010
Email: kkapiteni@arg.org