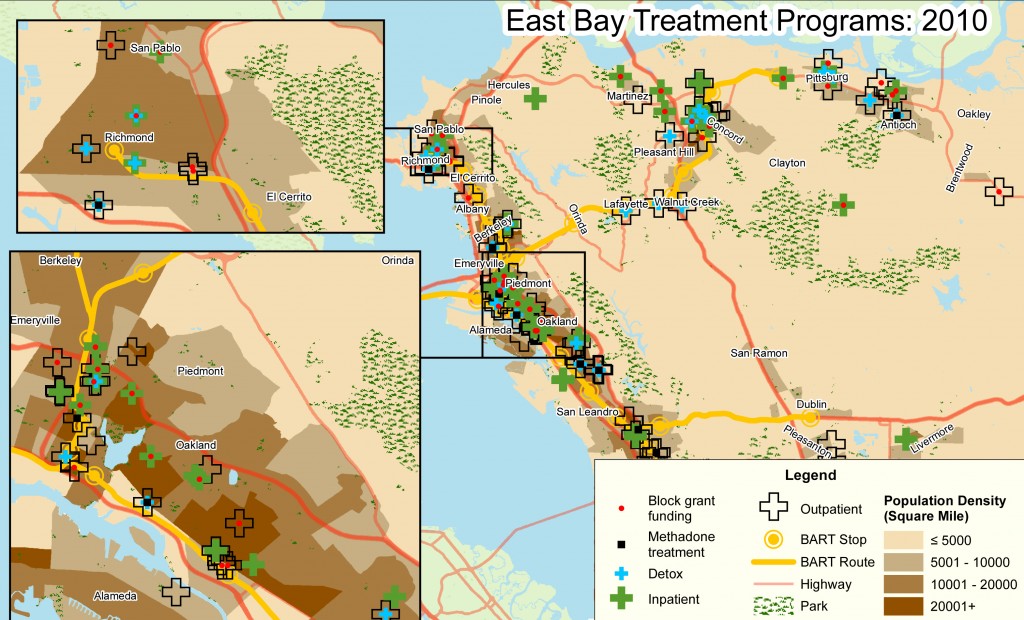 For ARG Scientist, Katherine Karriker-Jaffe, PhD, what began as an interest in health and social justice has developed into a passion to better understand how our neighborhoods – where we live, work and play – influence whether we drink, smoke or use other substances and whether we have problems due to substance use. While there is a long tradition of looking at a neighborhood's impact on our health, there has been less work done on sub-group effects, that is, how specific groups of people living within a neighborhood are affected by both the structural and social makeup of their community.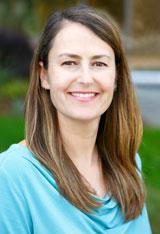 "Neighborhoods are normally not homogeneous, but are comprised of different people with different backgrounds and experiences, all of which contribute to their decision to use substances or not," Karriker-Jaffe noted.  "Add both structural and social stressors that intersect with these experiences and some groups could be at a higher risk for substance use and problems because of their use."
In her research, Karriker-Jaffe has found that the primary theories underpinning a neighborhood's impact on health behaviors, which include the social characteristics of a community and its physical environment, are for the most part correct. However, she thinks that an individual's story is much more complex, with neighborhoods interacting with other social environments including the family and peer groups.
For instance, timing of the exposure – the presence of a prominent billboard in your neighborhood advertising a tobacco product as an example – and the normative values present when that exposure occurred – your peers think smoking is cool – all play a part in your decision to start smoking.  Add to that your cultural background and whether smoking is accepted or not, then take it a step further to include any external stressors such as a low income or high rates of neighborhood crime, and you've created an even more complex puzzle to unravel.
Taking apart such a complicated puzzle with so many changing pieces is the focus of Karriker-Jaffe's work.  As such, what she uncovers has strong implications for policy development, in particular for disadvantaged communities, which are often the target of aggressive advertising from both tobacco and alcohol industries.  Her work also helps inform what type of intervention would best serve the local populations and where such interventions should be implemented.
Because place does matter, Karriker-Jaffe has dedicated much of her research to mapping services within disadvantaged neighborhoods.  One recent project included mapping alcohol outlets, treatment resources and sober living houses in L.A. County neighborhoods to determine where additional services are needed.  She was quick to note that when developing services or making changes to a community to serve a particular group, decision-makers also need to look at how such changes impact adjoining neighborhoods and co-existing client groups.
In other words, where we live – our neighborhoods and communities – are complex and dynamic with far-reaching impact.
So, will we ever fully understand the puzzle?
According to Karriker-Jaffe the answer is really quite simple: "To improve our health and well-being we just need to improve the social welfare of all of our communities to benefit all people," she said, then added, "I think we can all agree on that."
Further Reading
Karriker-Jaffe, K.J. (2011). Areas of disadvantage: A systematic review of effects of area-level socioeconomic status on substance use. Drug and Alcohol Review, 30 84-95 Abstract or Full Text
Karriker-Jaffe, K.J., Zemore, S.E., Mulia, N., Jones-Webb, R., Bond, J., & Greenfield, T.K. (2012). Neighborhood disadvantage and adult alcohol outcomes: Differential risk by race and sex. Journal of Studies on Alcohol and Drugs, 73 (6) 856-873 Abstract or Full Text
Karriker-Jaffe, K.J. (2013) Neighborhood socioeconomic status and substance use by U.S. adults. Drug and Alcohol Dependence 133(1):212-221. Abstract or Full Text
Karriker-Jaffe, K.J., Roberts, S.C.M., & Bond, J. (2013). Understanding the contribution of income inequality to alcohol use patterns and associated problems. American Journal of Public Health, 103 (4) 649-656 Abstract or Full Text
Karriker-Jaffe, K.J. & Greenfield, T.K. (2014). Gender differences in alcohol's harms to others in disadvantaged U.S. neighborhoods. Drug & Alcohol Review, 33 (3) 296-303 Abstract or Full Text
Karriker-Jaffe, K.J., Liu. H,, Johnson, R.M. (2015) Racial/ethnic differences in associations between neighborhood socioeconomic status, distress and smoking among U.S. adults. Journal of Ethnicity in Substance Abuse, 15(1), 73-91.  Abstract or Full Text.