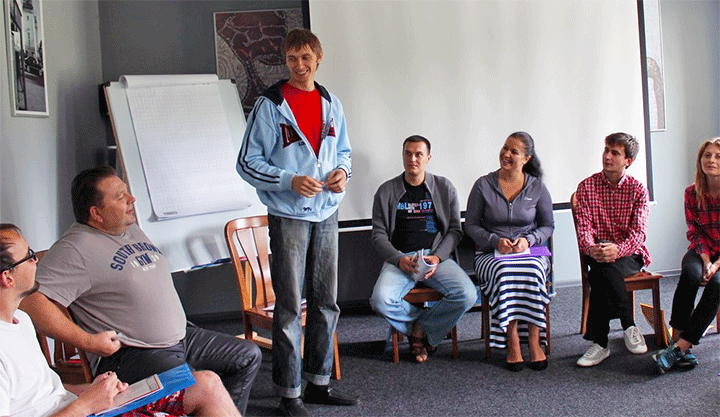 A new ARG study will look at whether a Motivational Interviewing Case Management (MICM) intervention will improve outcomes for people who are on probation or parole, at risk for HIV and have recently entered a Sober Living House. The MICM will help respondents access needed services, adapt to their new living environment, find and maintain work, address HIV risk and treatment, and manage setbacks.  With a high risk for HIV infection among criminal justice offenders, there is a strong need for stable, drug-free housing.
The study, which hopes to recruit approximately 30 Sober Living Houses throughout Los Angeles County, will randomize house residents to either receive the intervention, which includes one-on-one sessions with a therapist, or a list of services without the support of individual counseling.  Drug-free houses will be recruited through the Sober Living Network (SLN), an organization that certifies over 500 sober living houses (SLHs) in California.
Liz Mahoney, Project Manager for the study, describes the intervention as a perfect fit to the needs of this particular population. "Motivational Interviewing is an intervention that works well for people with drug and alcohol issues as it meets the person where they're at in their current stage of change," she says.  "The idea is to get them to look at what is preventing them from making changes – look at what's holding someone back – then the therapist works with them to help move them along towards that change."
The intervention also includes case management which will help participants access available services and, in turn, support their goal of remaining sober.  Mahoney notes that for this particular population there is a real need for people to know what kind of resources are out there and match them to those services.
"It's very cool to work on a project that contributes to supporting [Sober Living Houses] – it's a powerful resource for people in recovery," Mahoney says when asked what she enjoys most about her job. "I also hear great stories and see how proud people are and how the house can transform their lives."
ARG Senior Scientist Doug Polcin and Associate Scientists Amy Mericle and Rachael Korcha head up the study which is funded by the National Institute on Drug Abuse (NIDA).  The study runs until 2018.