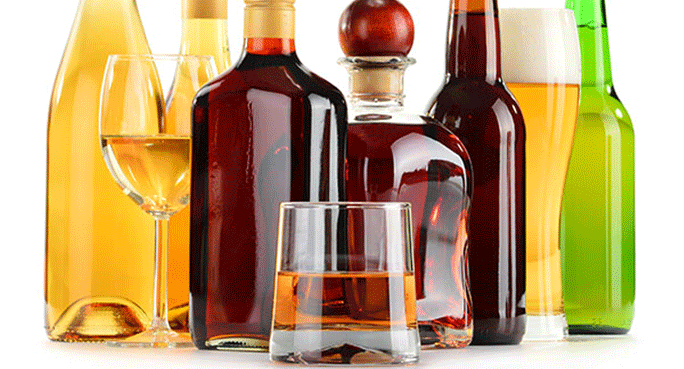 Most people know that drink sizes differ depending on where you purchase your drink and that they're not very consistent, in particular when you compare with how much you pour when at home.  Since the size of drink determines how much alcohol you're consuming, knowing the amount of alcohol in a "standard drink", or what the British call a "unit of alcohol", as well as how to pour that amount of your usual beverage, is critical when trying to stay healthy and making sure you're not exceeding the weekly recommendations of the low-risk drinking guidelines.
What is a standard drink?
First you should know that a standard drink also differs across countries and not only because of what people consider an average amount of alcohol, but also because individual countries consume different types of alcohol, so creating one universal standard is difficult to do.  Here in the US, the standard drink (0.6 ounces of pure alcohol) was developed from the most common type of alcohol consumed (beer) and the typical quantity of that alcohol type (12 ounce bottle) along with its typical strength (5% ABV).  This standard also fits well with typical wine (5 ounces at 12% ABV) and spirits (1.5 ounces at 40% ABV) pour amounts.  The other difficulty in defining a standard drink is that the strength varies both across different types of alcohol and within a specific drink, such as beer, where the alcohol percentage can range from 2.8% ABV to 8.4% ABV.
How do most drinks compare to a standard drink?
A review of drink pours found that when most people serve their own drinks at home, they often over-pour compared to the standard drink (Devos-Comby & Lange, 2008).  People who drink beer tend to pour a standard drink, but for stronger types of alcohol such as wine and spirits, over-pouring happened more often.  And as you probably guessed, the bigger the glass, the more alcohol people tended to pour.  ARG Senior Scientist William C. Kerr and colleagues, in studies that looked at drink sizes where they asked people to measure out the amount of alcohol they would typically pour and in studies of drinks served in bars and restaurants, confirmed that it's the size of the glass that often determines how much people pour rather than its shape.
So if you want to cut back or are concerned at all about how much you're drinking, rather than pour your drink into a pint glass or large wine glass, try swapping out your usual glass for something smaller. For spirits drinks, using a measuring device like a jigger or pouring over ice can help reduce over-pouring.
You can learn more about what is a standard drink by checking out the NIAAA's Rethinking Drinking, which provides useful tips and resources for low-risk drinking.
References:
Devos-Comby, L. and J. E. Lange (2008). ""My drink is larger than yours"? A literature review of self-defined drink-sizes and standard drinks." Current Drug Abuse Reviews 1(2): 162-176.  Abstract or Full Text.
Kerr, W. C. and T. Stockwell (2012). "Understanding standard drinks and drinking guidelines." Drug and Alcohol Review 31(2): 200-205. Abstract or Full Text.
Kerr WC, Greenfield TK, Tujague J, Brown S (2005) A drink is a drink? Variation in the alcohol content of beer, wine, and spirits drinks in a U.S. methodological sample. Alcohol Clin Exp Res 29(11):2015-2021. Abstract or Full Text.
Kerr WC, Patterson D, Koenen MA, Greenfield TK (2009) Large drinks are no mistake: glass size, not shape, affects alcoholic beverage drink pours. Drug Alcohol Rev 28(4):360-365. Abstract or Full Text.