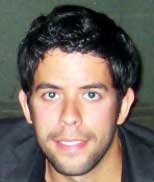 ARG is pleased to welcome visiting scholar, Gabriel Andreuccetti, PhD, who has moved from Sao Paulo to spend a year working with Senior Scientist Cheryl Cherpitel, PhD.  This is his second time visiting ARG and we're excited to have him back in the Bay Area.
Recently, we spent some time with Gabriel to learn more about his work and what brought him to ARG.
ARG: First, it's so nice to have you here, Gabriel.  For people who don't know you, can you tell us a little about where you're from?
I was born in a small city called "Vinhedo" (which literally means vineyard) in the State of Sao Paulo in Brazil, but I grew up and spent most of my adolescence in another nearby city called "Jundiaí" (a South-American Indian name for "catfish" due to a big river that surrounds the city).
It is a beautiful region, full of mountains and rain forests, which attracted a lot of Italians during the European immigration – in the early 20th century – to work on the coffee plantations. That's why my surname has an Italian sound to it – my family was in that region and is descended from Portuguese and Italian immigrants.
It wasn't until I was accepted to study biological sciences at the University of Sao Paulo that I moved to the capital.
ARG: Tell us a little about your educational background, where you studied and your research interests.
After graduating from college as a biologist, despite that exciting period of time that involved genetics research and environmental issues, I became interested in forensic science. From my studies in forensic toxicology, I learned that alcohol use is an important public health issue, being responsible for a wide range of health problems and fatalities. I recognized the scientific opportunity to conduct research that could benefit the population as a whole using a more applied scientific perspective. At that same time, I realized that epidemiology was one of the best research tools to study human populations and the mechanisms involved in disease control. That's why I decided to continue my career in the field of alcohol epidemiology.
Working in cooperation with police departments and medico-legal institutions, I realized that the great number of violent deaths in my country, especially in the urban centers such as the city of Sao Paulo, was usually related to the consumption of alcohol and other drugs, more often by young people from deprived areas. My initial studies were developed to address this specific topic, and they have led me to my future academic career, which eventually would become part of my masters and PhD work.
ARG: What was the focus of your dissertation?
My PhD was developed in a collaboration effort between my supervisors at the University of Sao Paulo Medical School and at the Public Health School from the University of California, Berkeley, where I met Cheryl Cherpitel from ARG who gracefully accepted to provide me with some extraordinary recent data on alcohol use among emergency room patients from Latin-American countries.
ARG: What area of research are you focusing on now and what will you work on while here at ARG?
Currently, I am mostly interested in how to develop better strategies addressing alcohol- and drug-impaired driving in developing countries such as Brazil, and to also provide a systematic and evidence-based approach to the prevention of alcohol- and drug-related injuries for Latin American cities.
I will be working on my postdoctoral project that started one year ago in Sao Paulo, exploring a new proposed method for studying the association between drug use and fatal injuries using Sao Paulo as a model.
ARG: How do you like living in the Bay Area?
California is a very special place for me, probably the place I feel most at home outside of Brazil. Regarding the Bay Area, on my first visit to this region and after seeing the Berkeley campus, I realized it's a very special place for both intellectual and entrepreneurial development. With all it offers and all the friends I have made in the Bay Area, including the big "ARG family", I can definitely say I like being here. That's why I am always coming back!
ARG: Thanks so much, Gabriel. We're so glad you're here and look forward to all your great work and collaborations over the next year.