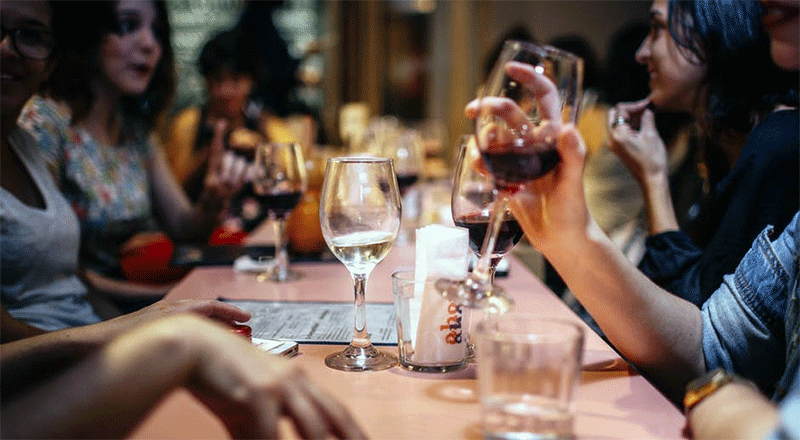 State Binge Drinking Rates Mediate the Effects of Alcohol Policies and State Living Standards, a New Study on Alcohol's Harms to Others Finds
Emeryville, CA (August 13, 2020) – A new study looks at the interplay between state-level alcohol policies, binge-drinking rates, and socioeconomic status(SES) and their effect on harms caused by someone else's drinking. The study from the Alcohol Research Group (ARG), a program of the Public Health Institute, highlights the roles of two state-level contextual factors—binge drinking rates and socioeconomic status—in the effects of alcohol policies on alcohol harms due to others' drinking.
More stringent alcohol policies, such as higher alcohol taxes, roadside sobriety checkpoints, and restricting alcohol availability, can be an effective way to reduce the health and social burden of alcohol use and lower the rates of binge drinking and alcohol-impaired driving among adults. However, they do not act alone. Policy effects often result from the interplays of social, cultural, and economic factors.
To determine the strength of the state alcohol policy environment, the authors used the Alcohol Policy Scale (APS), developed by Drs. Tim Naimi and Ziming Xuan of Boston University and their colleagues. The APS encompasses 29 policies in five policy domains—availability of alcohol, age restrictions, drinking driving, social host laws, and pricing/taxation, and is rated on the efficacy and implementation of each policy.
Researchers performed a multi-level mediation analysis to examine how binge drinking levels and SES contribute to three types of harms associated with others' drinking: physical assault or property vandalism, riding with a drunk driver or having traffic accidents, and family/marital problems.
Their findings suggest that a more robust alcohol policy environment, with higher levels of enforced alcohol-related policies, could lower statewide binge drinking rates, which, in turn, could indirectly reduce the risk for physical assault/vandalism and driving-related injuries caused by other drinkers. Encounters with aggressive drinkers are more likely to occur in places where binge drinking is more widespread, increasing an individual's risk of attacks, sexual assault, and traffic accidents. These findings illustrate how a stricter alcohol policy environment could decrease these risks in public places by reducing binge drinking.
The study did not find the effects of state-level policies, direct or indirect, on reducing family or marital problems. The relationship between drinking rates and family problems is complex, with negative impacts occurring over an extended timeframe in various interlocking areas such as stress and threats to the family, which tend not to be affected by alcohol policies.
"Harms related to other's drinking inherently impact more people than just the drinkers themselves. A better understanding of how different factors mediate, undermine, or reinforce policy effects has great potential to advance the alcohol policy agenda by improving the health and well-being of the broader population," said ARG Scientist and lead author Won Kim Cook.
In other findings, state-level SES may influence harms due to other's drinking in different ways. In states with higher living standards, there was an increased risk for assault/vandalism and driving-related injuries due to higher rates of binge drinking, while lower state-level SES elevated risk for family/marital problems. Past research has shown a significant contributing factor to binge drinking is the ability to afford alcohol in large quantities.
The study, published today in the journal Alcohol and Alcoholism, is the first to call attention to the high rates of binge drinking in high-SES states and suggests the need for stricter alcohol policy environments in these areas.
Researchers used a representative sample of U.S. adults ages 18 or older (n=32,401) from four cycles of the National Alcohol Surveys (NAS) and the 2015 National Alcohol's Harm to Others Survey (NAHTOS) and linked them with state-level Alcohol Policy Scale (APS) scores, binge drinking prevalence, and socioeconomic status (SES) data.
Reference
Cook, W. K., Li, L., Greenfield, T.K., Patterson, D., Naimi, T., Xuan, Z., Karriker-Jaffe, K.J. State alcohol policies, binge drinking prevalence, socioeconomic environments, and alcohol's harms to others: a mediation analysis. Alcohol and Alcoholism: https://doi.org/10.1093/alcalc/agaa073
#########
If you are interested in arranging an interview with Won Kim Cook, Ph.D., please contact Dustin Khebzou at the Alcohol Research Group at (609) 705-9661 or dkhebzou@arg.org.