Miguel Pinedo, who recently began his two-year postdoctoral fellowship at ARG, moved from Southern California to the Bay Area where he'll focus on migration as a risk factor for substance use.
But Miguel's no stranger to Northern California, having completed his MPH at UC Berkeley before obtaining his PhD at UC San Diego. With a goal of becoming an independent researcher, Miguel feels ARG is the perfect training ground for skill development while also providing the opportunity to further the work he started in graduate school.
"I studied how social and structural conditions of deportation may influence deported migrant's risk to HIV. Many were brought to the US as minors by their migrant parents and have never even been to Mexico at the time of their deportation, for instance," he explained when asked about the research he conducted for his dissertation. "So I'm interested in studying health disparities that arise from this type of migration."
Miguel will be working with Senior Scientist Sarah E. Zemore on the US-Mexico border project, a study that looks at alcohol consumption, drug use, and rates of alcohol abuse and dependence among residents of border cities compared with people living in non-border cities.  The study will also assess how mobility – the ability to travel across the border – affects alcohol and drug use.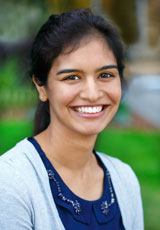 For almost two years, Research Associate/GIS Technician Shalika Gupta has graced the halls of ARG with her smile, homemade treats and an incredible ability to take data and map it out spatially.
With an undergraduate degree in environmental science, Shalika will be starting her MA in biostatistics this fall at UC Berkeley. While gaining admission to Berkeley's program is tough enough, Shalika had an even tougher job choosing between the offer she accepted at Berkeley and the one she received from Harvard's School of Public Health. But Shalika chose to stay local, mostly due to the strength of the program and the quality of the instruction she'll receive.
When asked what she'll take away from her experience here at ARG, she described the quantitative skills she strengthened, including her knowledge of data management and new software tools. For the majority of her time Shalika worked with Scientist Katherine Karriker-Jaffe on a research project that collected and mapped data on alcohol treatment resources in the Bay Area.
Congratulations, Shalika!  You'll be missed.