As a core component of the National Alcohol Research Center, the pilot studies program provides early-stage investigators with the opportunity to explore new areas of research that often leads to independently funded projects. The most recent studies include the development of a kiosk-based prenatal screening intervention, improvement of alcohol dependent measures, associations between immune function, alcohol use disorders and psychological distress, and the relationship between experiences of discrimination and alcohol services use.
To get a better sen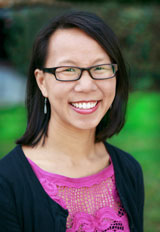 se of how the program works to develop individual research skills, we followed up with Camillia Lui, an associate scientist at ARG and director of a current pilot study that is assessing the role socioeconomic status has on substance abuse treatment among adolescents.
Where are you at with your pilot – at what stage in the research process?
I'm about half-way through my pilot working on my first study aim. This aim looks at the relationship between family socioeconomic status (SES) and adolescent treatment participation and outcomes. I am currently writing up findings and preparing them for a presentation later this year at the Addiction Health Services Research (AHSR) Conference.
What are the next steps?
In addition to preparing the manuscript for publication and the AHSR conference presentation, I will examine long-term outcomes (up to 5 years) of adolescent substance abuse treatment and how one's own SES plays a role in recovery during young adulthood.
How has this pilot project helped you as a new investigator?
The pilot project has been an excellent springboard for my research in three ways. First, it enabled me to apply my expertise of SES and adolescents/young adults into a new research area of substance abuse treatment; the pilot findings will serve as preliminary analyses for an NIH grant. Second, it provided the opportunity to collaborate with Kaiser—the Kaiser Adolescent Treatment Study surveyed adolescents at the start of substance abuse treatment and continued to follow them over time as they transitioned into young adulthood. This is like my dream longitudinal study. The Kaiser study team did an excellent job with conceptualizing the study and has put so much dedication into following them for almost a decade. I'm appreciative of having the opportunity to work with the Kaiser researchers and use their data to help answer my research questions.
Finally, I have the best of both worlds… learning how to lead my own study yet having the mentorship and expertise from ARG researchers, in particular Lee Kaskutas, Nina Mulia and Doug Polcin along with the Kaiser study team.
Thanks, Camillia. We look forward to hearing more about this project and its outcomes.