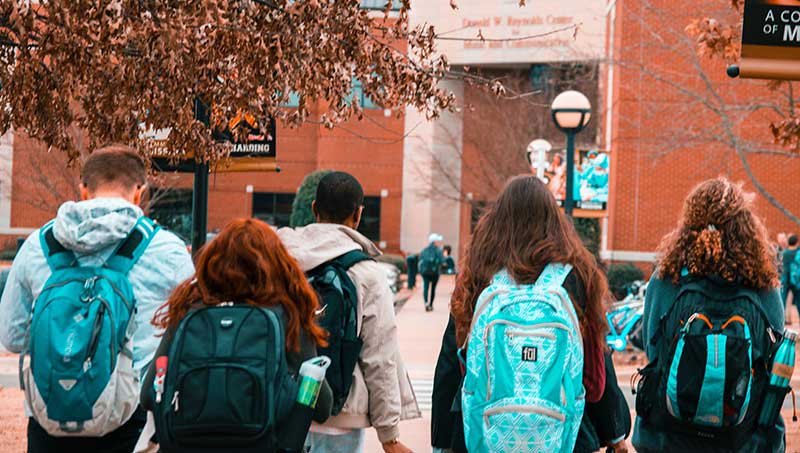 ---
In California, only 52 of the 114 community college campuses are smoke-free or tobacco-free—a stark contrast to California's four-year public colleges which are all tobacco-free. In response to this disparity, an ARG research team, led by Scientist Camillia K. Lui, conducted a mixed-method study that examined both campus and community influences on smoke-free policy adoption at community colleges. The team analyzed tobacco control policy databases, school administrative records, survey data, Census and other data, along with 36 interviews with stakeholders representing 2 community colleges, and site visits. Study findings pointed to influential factors that may be intervened upon and successful strategies that have been used, to facilitate the adoption of smoke-free policy at California community colleges. Results will be used to help the remaining 62 campuses overcome institutional and other barriers to tobacco-free policy adoption and can point to more effective environmental strategies to reduce tobacco-related disparities.
Location Matters
This is the first study to assess policy adoption over sixteen-years within a racially, ethnically, and socioeconomically diverse postsecondary public education system. The research team examined how the local context influence smoke-free policies considering community colleges are less insular, have little, if any, campus housing, fewer health resources, and weaker campus norms.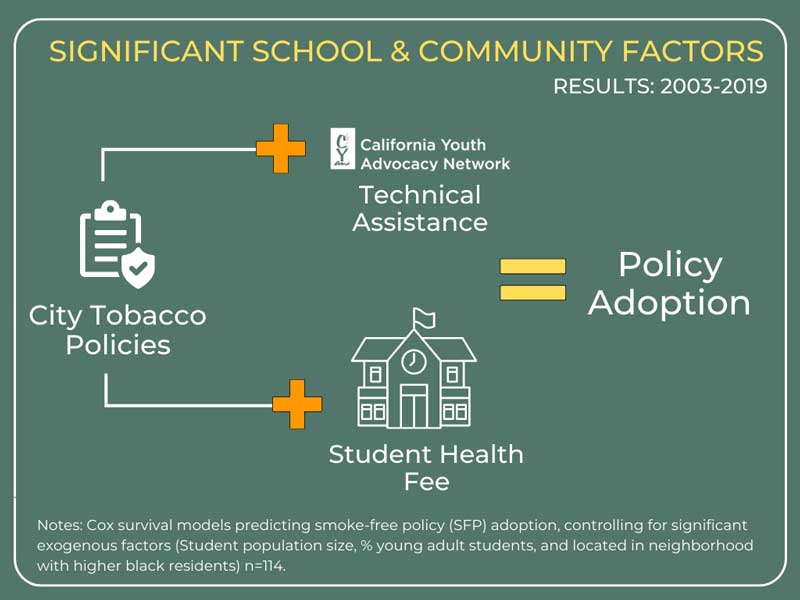 Findings showed that community colleges located in cities with strong tobacco control policies and campuses with more health resources were more likely to have a smoke- and tobacco-free policy in place. Results suggest that inequities in smoke- and tobacco-free policy adoption were not related to area-level disadvantage or local smoking norms, which included smoking prevalence and number of retail outlets. However, fewer rural campuses (18%) had adopted smoke- and tobacco-free policies compared to urban or suburban community colleges (60%).
This stark difference in rural versus urban/suburban campuses also continued over time. However, even when controlling for campus location, the primary factors associated with policy adoption remained. Despite this, the main correlates of SFP adoption remained robust when controlling for geography. Of the community colleges located in rural areas, three campuses adopted smoke- and tobacco-free policies despite the high rate of smoking by local residents and poor tobacco control policies.
READ: Lui, C.K., Mulia, N., Ye, Y., Patterson, D., Trieu, S.L. (2022) School and community factors associated with the adoption of 100% smoke-free policy by California community colleges, 2003-2019. American  Journal of Health Promotion.
Presentations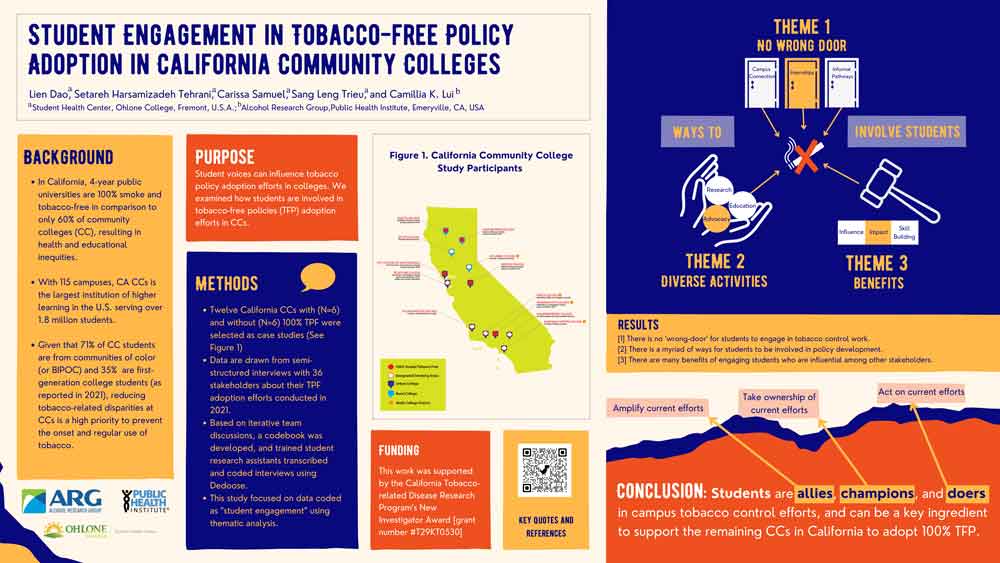 The project presented at two conferences in 2022. The first study presented at the Society for Public Health Education's annual conference and examined student engagement in tobacco-free policy adoption at community colleges in California. Data from interviews with 36 stakeholders representing six colleges with and six college without a tobacco-free policy were analyzed and coded to identify the theme of student engagement. Findings showed that there was no 'wrong-door" approach when engaging students in the process. Connections to campus, internships and informal pathways were the primary 'doors' to build student engagement. There were also a myriad ways for students to be involved in the policy process including in the areas of research, advocacy and education. The study also found that student engagement benefits both the students (skill-building) and the process, in particular if the students are influential with other stakeholders—they can amplify, own, and act on policy efforts as allies, champions and doers.
---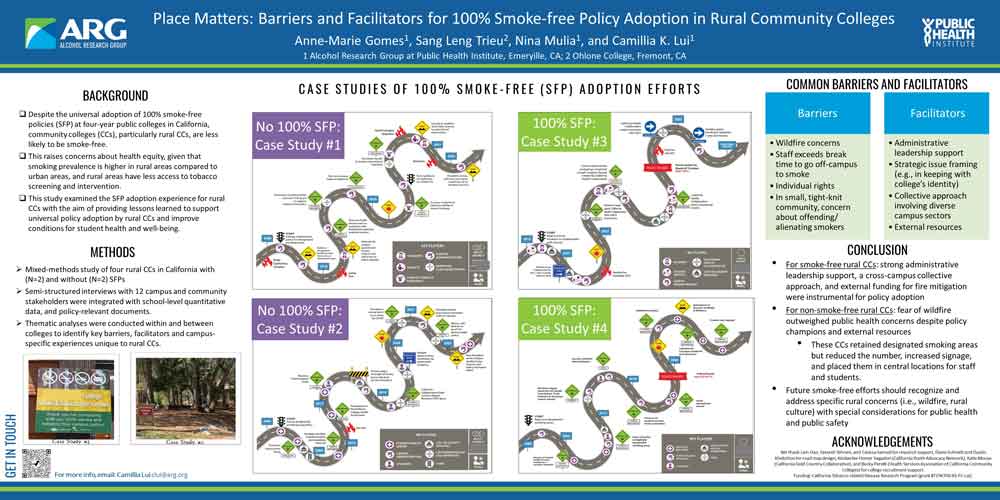 Presented at The American Public Health Association's annual conference, another study assessed the smoke-free policy adoption experience for rural community colleges with the goal of learning how to better support policy adoption by other rural colleges. Analysis identified barriers to policy adoption which included location-specific issues such as strong concern for wildfires and smoking off campus—people may travel to more fire-prone areas to smoke and the time needed would exceed staff break times. Individual rights and concern for their community members (people who smoke feeling alienated) were also barriers to adoption. Facilitators to policy adoption included having support from administrative leaders, strategic issue framing, using a collective approach involving diverse campus sectors, and having supportive external resources, such as a public health champion and dedicated funding through community or state grants.
---
Student Engagement and Training
The project also trained community college students as research assistants who developed and presented the poster study at the Society for Public Health Education's annual conference. The project also established very strong relationships with community colleges, advanced research, and submitted a new proposal to enhance tobacco-free campuses through screening and early intervention.
Funding and Support
This work was supported by the California Tobacco-related Disease Research Program's New Investigator Award.
Community partners included California Youth Advocacy Network (CYAN; Kimberlee Homer Vagadori ), the California Gold Country Collaborative (Katie Moose), Health Services Association of California Community Colleges (Nicole Johnson, Becky Perelli, and Beth Hoffman), and the 36 key informants representing 12 community colleges: Allan Hancock College, Butte College, City College of San Francisco, Columbia College, Feather River College, Merced College, Pasadena City College, Pierce College, San Bernardino Valley College, Santiago Canyon College, Shasta College, and Skyline College.
Dr. Lui led this study with Senior Scientist Nina Mulia, Co-Investigator Sang Leng Trieu of Ohlone College and her student researchers including Setareh Tehrani, Lien Dao, and Carissa Samuel, and study collaborator, Elisa Tong at UC Davis.