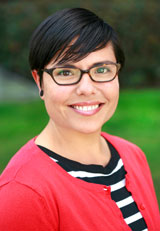 Congratulations to ARG associate scientist Priscilla  Martinez who received an NIH K01 Career Development Award to study the relationship between alcohol use, inflammation, and health outcomes, specifically hypertension, diabetes, and depression, in the context of racial/ethnic disparities.
The prestigious K01 award provides early-stage investigators with mentored support to help recipients develop independent research careers.  Martinez is the first ARG researcher to receive such an award.  She recently completed her postdoctoral fellowship at ARG in collaboration with the University of California, Berkeley's School of Public Health (T32 AA007240).
Martinez's project will look at how race/ethnicity impacts alcohol's effect on inflammation,and how environmental stressors and unhealthy behaviors contribute to the impact of race/ethnicity on the risk of developing hypertension, diabetes, and depression. With a background in the biological sciences and as a trained alcohol researcher, her investigation will also examine the utility of a novel biosample collection method using self-administered dried blood spots in the U.S. National Alcohol Survey and explore other relevant immune markers.
Following this 5-year grant, Martinez will apply her findings to support a larger study on the effect of a variety of immunological mechanisms and associated factors that may further explain differential alcohol-related health outcomes across racial/ethnic groups.
Her primary mentor on this project is ARG senior scientist Sarah E. Zemore.