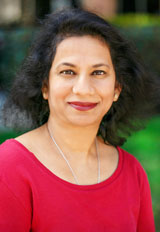 A new clinical trial that will launch in September is an example of an innovative tool that can help educate and inform women of the risks of drinking during pregnancy.
To find out more about this project and how it will impact women's health, we caught up with Principal Investigator and ARG Scientist Madhabika Nayak.
Tell me about your project and how it will support women's health.
Fetal Alcohol Spectrum Disorders (FASD) continues to be a problem despite all the preventative measures in place.  Often, women continue to drink because they don't know they're pregnant, or they have an unplanned pregnancy, or simply misunderstand the risks of drinking while pregnant.  But it's a preventable disease – if you don't drink, your child will not have FASD.  It's as simple as that.
Resource issues, particularly in public health settings, limit the use of recommended screening and brief interventions for drinking during pregnancy. Women may also be embarrassed to disclose that they are drinking and may fear losing public health benefits if they admit alcohol use. Because of this fear, the lack of access to appropriate services, and the fact that some women continue to drink while pregnant, it is clear that innovative ways of delivering screening and brief intervention are needed.
This project started when former ARG postdoctoral fellow, Dr. Lyndsay Ammon Avalos, had an idea to make Dr. Lee Kaskutas' computerized screening and brief intervention program self-administrated. She felt that women would be more willing to disclose to a computer than clinic staff that they were drinking.  We implemented this idea in a pilot study, between 2012 and 2013, recruiting 290 women within a six-month period. We found that using self-administered computerized screening and brief intervention in a busy public clinic setting is feasible, acceptable and valid for assessing drinking during pregnancy.
First, women loved the program and found it to be extremely useful. Second, and the most interesting finding, was that 20% of women reported using alcohol at some time during their pregnancy. When we compared this result to what the clinic had collected through their assessments, which showed 13% of women reported having used alcohol, the tool actually captured a higher percentage.
The next logical step was to test the tool's efficacy: could the tool actually prevent women from drinking during pregnancy?  Given our prevention approach, we decided to work with women of child-bearing age who may become pregnant but aren't currently expecting.
We wanted to test the tool in a Women, Infant and Child (WIC) clinic where women are at a higher risk because of lack of access to care and information; they face so many barriers and we're hoping this tool will overcome some of these barriers. We also wanted to follow them over time which the pilot project didn't capture.
We'll be recruiting 200 participants across two sites. We plan to launch in September starting with a two-month testing period in the field to ensure the tool is user-friendly and does not disrupt clinic activities in anyway.
This sounds like a large undertaking.  Can you tell us about some of the challenges you faced?
One of the biggest challenges was to try to integrate the input of multiple stakeholders at a very early stage of the project, including state health agencies, governing boards, multiple institutional review boards and perinatal health advocacy groups.  However, this challenge was also the project's greatest strength in that our stakeholders – the community – have been part of the process from the very beginning. Because we've engaged the people on the ground, we hope this will reduce any implementation issues we may have otherwise faced.
Working with stakeholders was a natural fit for me. I was trained within a science-practitioner model so I'm used to working with people on the ground in terms of how this will work. I was delighted that people were taking the time to be engaged. Also, our programming team from FicusSoft – the developers who created the software – have been a great resource as they often made us look at the project differently – they made us think outside the box.
So it's been an incredible project to work on with such engaged and informed experts supporting and helping facilitate the process.  As part of the team, I also want to publicly thank people at the Public Health Institute (PHI) who helped make connections with both folks at the state Women Infants and Children's (WIC) program IC and our study sites in Santa Rosa and Oakland:  Lynn Silver, Mary Pittman, and Julia Caplan.
I also want to acknowledge the National Institute on Alcohol Abuse and Alcoholism (NIAAA) and the Office of Behavioral and Social Sciences
Research (OBSSR) which provided funding for this project through a planning stage grant (R34 AA022697), the first of its kind at ARG.  It's enabled me to develop the tool and collect data from the two WIC sites.
Tell us how the tool works and how it will be incorporated into a clinic visit?
Following an assessment, WIC staff will provide the client with a brochure about the study. Interested clients will approach the private study area where a study research assistant will check their WIC ID, assign them a study number, and start the program for them on a 20-inch touchscreen monitor.
Participants will use the use the touchscreen to complete the study assessments and the screening and brief intervention. Incentives are provided at each stage of the assessment.
A unique part of our computerized program is the assessment computerized referral for depression and other alcohol-related problems. Participants who screen positive for depression or alcohol problems will be given information via the computer on treatment and referral programs to help with the problem they're experiencing.
The depression module enables us to examine whether women with depression are less likely to benefit from the brief intervention. If so, we will add a single session depression to the computerized program in our next project that will be a larger controlled trial of our computerized program.
We're also already thinking about proposing a later phase of this project which will examine how best to integrate women's answers about drinking into their clinic records so healthcare staff can provide them with better care. To begin addressing this needed process of integration of health information, we added some questions at our current study assessment to find out if participants would agree to share the answers they give a computer with a care provider.
How did your interest in prenatal health develop?
I've always had an interest in women's health and as a clinical psychologist I've worked at the integration of mental health and primary care.  In a way, I fell into this area of technology.  I'm amazed by what technology can do and even though I'm aware of its limitations, I'm very mindful of increasing accessibility to care and how technology can help.
This project has helped me use my strengths and gave me many opportunities for learning. In essence, everything I'm passionate about is in this project and I'm excited to see it move into the field.
Thanks so much, Madhabika. We'll keep checking in with you over the next six months to see how things are going and to find out more about how this tool is helping women access such critical health information.