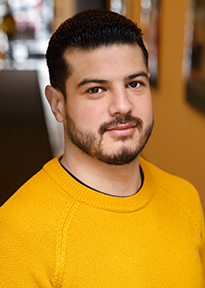 We are pleased to announce that postdoctoral fellow and Associate Scientist Miguel Pinedo will join the faculty at the University of Texas at Austin as an assistant professor in the Department of Kinesiology & Health Education. While at ARG, Miguel has worked with Senior Scientist Sarah E. Zemore, whose research includes a five-year Center-based project, on a study examining alcohol and drug problems among Mexican-origin people residing in the US-Mexico border region.
Miguel's interests and expertise includes the role of migration-related factors in alcohol and drug abuse as well as the social and health consequences of deportation. He has been the recipient of over fifteen awards and fellowships, including the Loan Repayment Program Award from the National Institute of Minority Health and Health Disparities, the Interdisciplinary Research Training Institute on Hispanic Drug Abuse Fellowship, and several travel awards to support the presentation of his work at conferences across the U.S.
In addition to his role as an associate scientist at ARG, Miguel also lectured at University of California, Berkeley, in the Department of Behavioral Health Sciences' extension program.
ARG's training program has supported and developed emerging scientists for forty years. In that time, over 230 fellows have successfully completed our program and gone on to work at research institutions around the world.