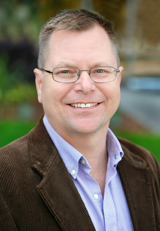 It's with sadness that we say goodbye to Associate Scientist Paul Gilbert. Having recently completed his postdoctoral fellowship at ARG, Paul will begin his academic career as an assistant professor in the Department of Community and Behavioral Health at The University of Iowa College of Public Health this fall.  With a Master's of Science in Health and Social Behavior from the Harvard T. H. Chan School of Public Health and a PhD in Health Behavior from the University of North Carolina at Chapel Hill, Paul brought to ARG an interest and expertise in behavioral science.
With a goal of having an academic career and with previous experience working on drinking norms on college campuses, Paul wanted to solidify his background in alcohol research which led him to the fellowship program at ARG.
"ARG's training program, which is one of 26 such T32 [training] programs funded by the National Institute on Alcohol Abuse and Alcoholism, really stood out as I was searching for a postdoc," he explained. "It's been home to the National Alcohol Survey for more than four decades and is a nationally-recognized alcohol research center. With its focus on alcohol-related disparities ARG's program seemed to be a perfect fit for me."
When asked about his experience as a trainee, Paul said he really appreciated the freedom that the program allowed enabling him to work on his own research while at the same time providing strong skill development training. He also appreciated having access to senior scientists who were always willing to offer advice and support.
In his first year, Paul received funding for a pilot study to look at Discrimination and Treatment Disparities and was a recipient of the NIH loan repayment program where competition is keen.
"One of the strongest features of the training program I found was the hands-on grant writing sessions where fellows critiqued each other's work and mentors offered advice on how to be successful," he said.  Paul also completed a grant application for a R21 grant (currently under review) which provided a strong grounding for his new academic career.
Paul hopes to continue his epidemiological research on alcohol disparities while also working with the local community in his new home city.
We wish you all the best in Iowa, Paul.  We'll miss you!
Find out more about ARG's training program for pre- and postdoctoral fellows.