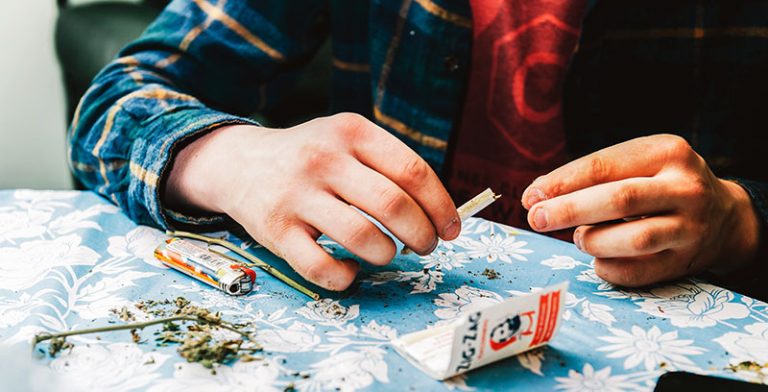 Cannabis Can Hurt More than Just the User but Poses Less Risk to Others than Alcohol
Press Release
Findings from the first-ever study of marijuana's secondhand harms show that fewer harms were attributed to someone else's cannabis use than from secondhand drinking. The new research from the Alcohol Research Group, a program of the Public Health Institute, and RTI International, a nonprofit research institute, was conducted using 2014 to 2016 data from Washington State where recreational marijuana use has been legal since 2012. The study was published today in the Journal of Psychoactive Drugs.
 "Measuring harms from the victim's perspective is highly relevant for substances other than alcohol where family members, friends, associates, and strangers may be affected by the behaviors of problematic users," study authors say. This is particularly important as other states consider future legalization of recreational marijuana sales and use.
From an analysis of a representative survey series focused on alcohol and marijuana use and related topics among Washington adults, 8.4% of respondents reported experiencing harm because of someone else's marijuana use compared to 21.5% from alcohol use in the past 12 months. The types of harms reported included threats or harassment, vandalism, physical harm, harms related to driving, or financial or family problems. Similar to alcohol use, the most common harms from someone else's marijuana use was harassment, vandalism, or family problems. However, these harms, while substantial, were three times more likely to occur from drinking than marijuana.
Women experienced more harms from others' use of either alcohol or marijuana than men, and for alcohol, the people harmed differed by age. Alcohol's harms from others was highest among people under 40 then declined with those 60 and older reporting the lowest rate. Marijuana harms did not vary significantly by age.
Following the November 2020 election, there are now 15 states that have legalized recreational marijuana in addition to Washington State: Alaska, Arizona, California, Colorado, Illinois, Maine, Massachusetts, Michigan, Montana, New Jersey, Nevada, Oregon, South Dakota, and Vermont.
To conduct the study, researchers led by senior scientist William C. Kerr, Ph.D. and Katherine Karriker-Jaffe, Ph.D., director of RTI's Community Health and Implementation Research program, analyzed data from five cross-sectional waves of a survey series conducted every six months from 2014 to 2016. The representative sample of Washington State residents included 4,290 respondents age 18 and older. The current research, funded by the National Institute on Alcohol Abuse and Alcoholism, provides new insight on recreational marijuana and its potential harms to people other than the user. Additional ARG study team members included research associates Edwina Williams and Deidre Patterson and senior scientist Thomas K. Greenfield.
"Marijuana legalization should be looked at from all angles, including how using the drug can pose threats to the family, friends and community. This study demonstrates significant risks of harms to others from marijuana use and the need for further studies to better understand and quantify these impacts,," says Kerr who, over the last two decades, has studied interventions that help counteract alcohol's harm such as policies aimed at reducing use. Kerr, who is also director of ARG's National Alcohol Research Center, advocates for further research to assess drug harms from not only marijuana use, but also opioids, heroin, cocaine and methamphetamine. "This perspective on community impacts of drug use provides an alternative to survey self-report from users, where use and problems are known to be substantially under-reported."
Few studies to-date have measured individual's reports of harms they experienced because of someone else's drug use. Those that have were conducted outside the U.S. and assessed drug use in general. Much more widely studied, both here and abroad, are alcohol's secondhand harms.
"Our hope is that the study helps inform future research and policy work in this area," added Karriker-Jaffe. "Any future studies should put an emphasis on balancing a public health approach to prevent harm, while simultaneously maintaining individually-focused, targeted measures in an effort to reduce harms attributed to someone else's use of marijuana or other drugs."
###
Kerr, W. C., Williams, E., Patterson, D., Karriker-Jaffe, K.J., Greenfield, T.K., (2020). Extending the harm to others paradigm: comparing marijuana- and alcohol-attributed harms in Washington State. Journal of Psychoactive Drugs: https://www.tandfonline.com/action/showAxaArticles?journalCode=ujpd20
Support for this paper was provided by the National Institute on Alcohol Abuse and Alcoholism at the National Institutes of Health under award numbers R01AA021742 and P50AA005595 (Kerr), and R01AA022791 (Greenfield and Karriker-Jaffe). The content is solely the responsibility of the authors and does not necessarily represent the official views of the National Institutes of Health.