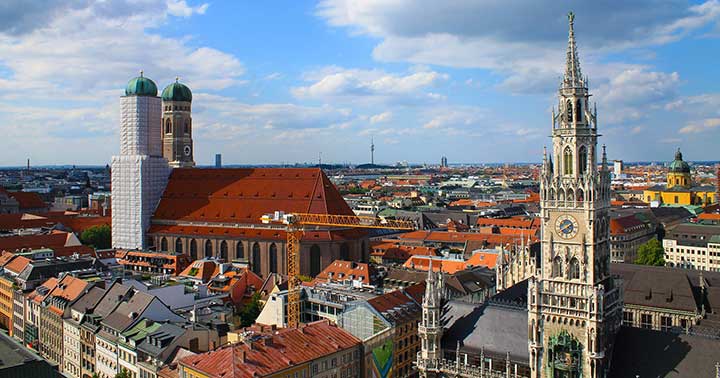 Senior Scientists, Thomas K. Greenfield and Cheryl J. Cherpitel, along with Associate Scientist Lauren M. Kaplan, are heading to Munich to attend the 41st annual Epidemiology Symposium of the Kettil Bruun Society.   The symposium runs from June 1-5 and features researchers from across the globe presenting their latest work.
Prior to the symposium on May 31, Tom chairs the Gender, Alcohol and Culture: An International Study (GENACIS) session along with co-chairing a joint meeting of GENACIS and the International Group for the Study of Alcohol's Harm to Others (IGSAHO) on June 2.  Also on June 2,  Tom moderates a session that focuses on defining addiction and its emerging perspectives followed by his presentation on alcohol-related disparities among American Indians and Alaska Natives on June 4.   Tom's presentation includes preliminary  study findings that suggest family drinking history and current social determinants may largely account for many of the descriptive disparities in heavy drinking and alcohol problems observed among American Indian and Alaska Native groups compared to other racial/ethnic groups.
An afternoon policy session on June 2 includes Cheryl's presentation on alcohol attributable fraction (AAF) for injury morbidity from the dose-response relationship of acute alcohol consumption with data derived from emergency departments in 18 countries.  The study findings underscore the fact that assuming uniform estimates of AAF for males and females or for all causes of injury or across countries or regions with differing drinking patterns may not be appropriate.
On  June 3, Lauren presents research on the associations between early-life victimization, injunctive drinking norms and harms from someone else's drinking using data from the 2010 US National Alcohol Survey.  The study suggests that victimization can increase risk of harms from someone else's drinking for both women and men and that health services and community-based interventions that screen for histories of victimization and develop strategies for coping with adverse childhood experiences may decrease the risk of harms from others' drinking.
The principal aims of the Kettil Bruun Society (KBS) are to investigate social, epidemiological and cross-cultural research on alcohol use, to promote the exchange of scientific knowledge, and to encourage international collaboration. The comparison of social and epidemiological developments found in different countries makes it possible to look at major trends and underlying patterns of alcohol use which helps inform the development of effective strategies to regulate alcohol use.
The symposium itself provides a forum for scientific investigators involved in studies on alcohol to exchange ideas about their ongoing research. The scope of the symposium includes studies of determinants and consequences of drinking, drinking culture and drinking patterns, social and institutional responses to drinking related harms, prevention and care.
For a complete schedule, including presenters and topics being discussed, see the Kettil Bruun website.