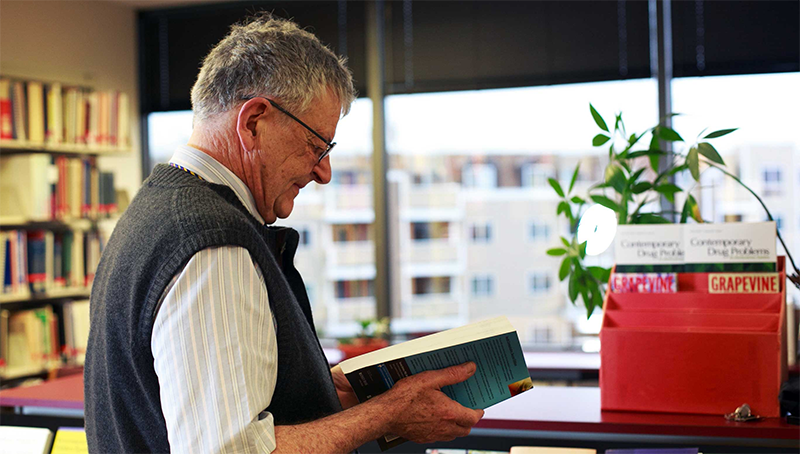 ---
After 15 years of dedicated service, Thomas (Tom) K. Greenfield, PhD, is stepping down as ARG's scientific director. Tom will continue as a senior scientist and co-director of the High Intensity Drinking Research Project and the Statistical & Data Services Core in the National Alcohol Research Center.
Tom joined our organization in 1992, and in 1999 became director of the Center, overseeing its projects, components, and resubmissions. He held that position until 2015. In 2008, he was appointed ARG's Scientific Director.
Throughout his tenure, Tom has ushered in new leadership, built important collaborations with external institutions, oversaw the successful submission and receipt of three P50 Center grants, supported the development of organizational operations, and brought about stronger staff compensation policies, among many other accomplishments. He has also steered our organization through times of celebration — both the 40th and 60th anniversaries — and the leaner periods, always putting staff needs first.
With a strong focus on researcher development and mentorship, Tom helped to support the training and growth of post-doctoral fellows and early-career scientists with those researchers going on to successful careers in academia and other institutions — many chose to stay on at ARG; they now hold their own grants and are moving into leadership roles.
He also recruited other researchers to ARG. One such is William (Bill) C. Kerr, PhD, ARG's current Center director and senior scientist.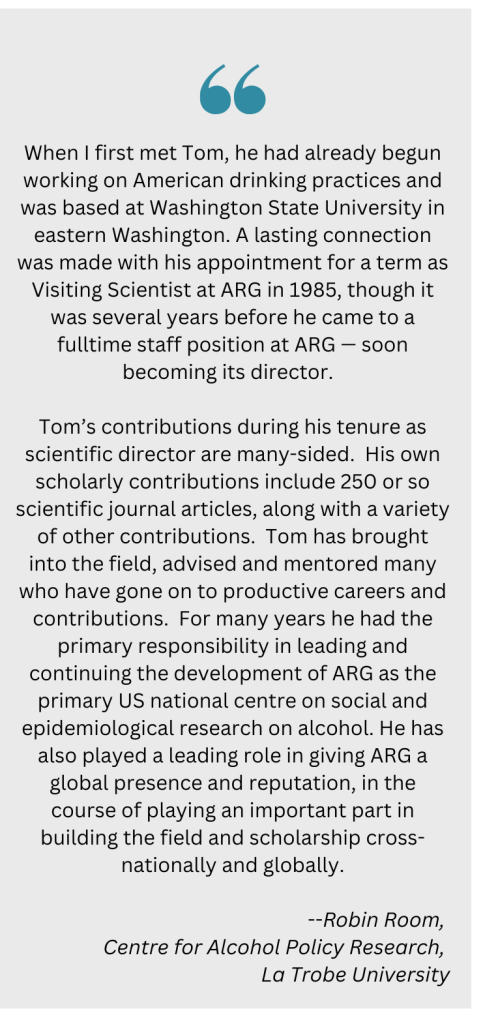 "Tom has been both a mentor and friend," Bill said. "I first met Tom at a conference and it was clear that we shared a lot of interests. Soon after, a position opened at ARG and we have worked together since on many important studies. Over more than 20 years, Tom has provided support for my work and helped me develop the necessary skills to take on senior roles and responsibilities.
Tom has led ARG though many challenges and I hope to serve the organization with the same kind of passion and commitment."
Bill will replace Tom as scientific director. He also heads up the organization's T32 Training Program. Scientist and Co-Director of the National Alcohol Survey, Priscilla Martinez, PhD, will become ARG's first deputy scientific director, co-leading the organization's scientific direction and efforts with Bill.
When asked about Tom's contribution to ARG's success, longtime colleague, and Senior Scientist Cheryl Cherpitel, DrPH, said, "Tom has been in leadership positions at ARG almost from the beginning of his tenure, and during that time, has always welcomed people's contributions and ideas with open arms. I believe, under his long-term commitment, guidance and direction, and his unfailing energy, ARG has grown and become the strong and exemplary organization it is today."
For that and more, we are grateful.
Thank you, Tom.