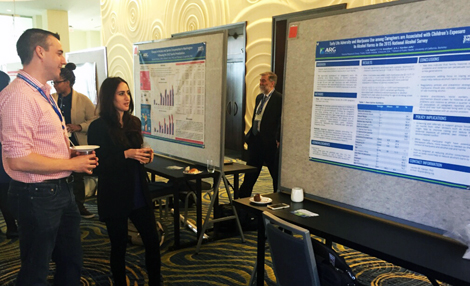 ---
The National Institute of Alcohol Abuse and Alcoholism (NIAAA) awarded another five-year grant to ARG's training program, which has been operating since 1971.  In collaboration with the School of Public Health at the University of California, Berkeley, the program fosters the development of trainees as active researchers in the field of alcohol studies. To date, the program has mentored 266 fellows with three predocs and three postdocs supported each year.
Through a highly interactive program, fellows receive training in the incidence, prevalence, and etiology of alcohol abuse, dependence, and related problems. Trainees learn from an intensive residency and involvement in ARG's research environment and activities, along with weekly seminars, grant-making workshops, and individual mentorships with experienced scientists.
"It is important to realize that ARG's program is the only NIAAA-funded training program to focus on alcohol-related disparities," said multiple principal investigator (MPI) Sarah E. Zemore, Ph.D. "Our fellows get state-of-the-art training relevant to documenting, explaining, and addressing disadvantages in health-related outcomes linked to race/ethnicity, socioeconomic status, gender, and sexual orientation. This positions them to make strong contributions to reducing health disparities and thus directly supports the NIH's mission, which includes the elimination of health disparities."
Once trainees have completed their two-year fellowship, they are equipped to obtain NIH funding and make productive contributions in their careers. The program fills a critical training gap, since doctoral students typically receive very little training on alcohol-related research even though alcohol remains one of the most widely available psychoactive drugs.
"ARG's training program, which is one of 26 such T32 [training] programs funded by the National Institute on Alcohol Abuse and Alcoholism, really stood out as I was searching for a postdoc," said Paul Gilbert, Ph.D. "It's been home to the National Alcohol Survey for more than four decades and is a nationally-recognized alcohol research center. With a focus on alcohol-related disparities, ARG's program seemed to be a perfect fit for me.
Gilbert completed his postdoctoral fellowship at ARG in 2015 and is now an Assistant Professor in the Department of Community and Behavioral Health at the University of Iowa College of Public Health.
This round of funding ensures the program will continue to provide young scientists with rigorous and highly evolved training that focuses on alcohol-related health disparities, a new initiative of the program and the Center.  The grant runs from June 1, 2016 until May 31, 2021.