---
ARG's policy-focused studies aim to inform and communicate research that inspires public dialogue and promotes evidence-based decision-making to advance the development of more effective health interventions. Applying a critical lens to issues of equity — racial/ethnic, social and economical — our analyses strives to help determine if policies affect groups differently and how to mitigate these differences in order to reduce health disparities between populations.
In an effort to continue to help shape the prevention landscape, our more recent work has targeted specific state and federal policies to determine their impact on drinking and other drug use in an effort to shine a light on how best to reduce harms from substance use.
State-Level Alcohol Policies
In the U.S., adults under age forty living in states with more restrictive alcohol policies experience fewer aggression- and drink-driving-related harms from someone else's drinking than those in states with weaker policies, an ARG-led NIAAA-supported study found. Results showed that for a 10-point increase in restrictiveness of an alcohol policy scale, including for instance alcohol availability, taxation and drink-driving laws, the odds of experiencing such secondhand harms was 16 percent lower.
While alcohol policies such as increasing taxes and implementing policies that reduce its availability are some of the most effective ways to reduce harmful alcohol use, such policies have differing impacts on specific subgroups. Results of a recent study that assessed alcohol taxation and availability restrictions showed that increased state beer taxes led to an overall reduction in beer consumption and volume in the general population. However, when analyzing subgroup effects, only white and African American women drank less beer while the latter group also consumed a lower percentage of alcohol by volume.
In assessing the impact of alcohol availability policies, such as government control of sales and outlet density, findings again varied across subgroups. For instance, white men living in a state with government-controlled spirit sales reduced both overall drinking and beer volume, and had 17% lower odds of alcohol-related consequences. Decreased bar density was also protective for both Hispanic women and men.
Alcohol Use During Pregnancy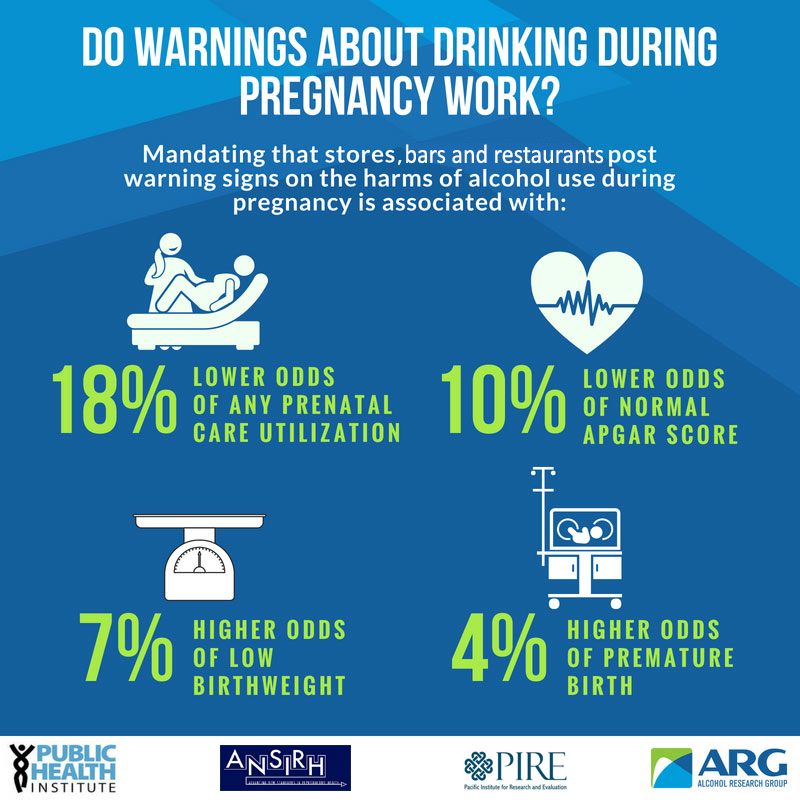 The majority of state-level policies targeting women's alcohol consumption during pregnancy—even policies designed to support pregnant women—lead to more adverse birth outcomes and less prenatal care utilization, including low birthweight (LBW) and preterm births (PTB), resulting in hundreds of millions of dollars more in public health spending each year.
Of the eight types of policies in effect across 43 states regulating alcohol use during pregnancy, four of them were significantly related to increases in LBW and PTB: mandatory warning signs in places where alcohol is sold, giving pregnant women priority for substance use disorder treatment, limits on criminal prosecutions related to alcohol use during pregnancy, and defining substance use during pregnancy as child abuse/neglect.
All of these policies, with the exception of the mandatory warning signs policy, apply to drug use during pregnancy as well. The researchers used 44 years of birth certificate data and estimates of the public health cost of an LBW or PTB birth in the first year of life to quantify the economic burden and health outcomes that each of these policies cause.
Injury Prevention Policies
A multinational study on alcohol policies and injury risk across 28 countries found countries with stricter alcohol policies had lower rates of alcohol-related injuries, regardless of individual consumption rates and drinking patterns, and country-level drinking patterns. Alcohol-related traffic crashes were most responsive to alcohol policy but were not influenced by the individual's usual drinking pattern. For violence-related injuries and those from falls and other causes, polices were less responsive and were influenced by usual drinking patterns.
To assess the effect of country-level alcohol policies, the researchers used the International Alcohol Policy and Injury Index (IAPII), which includes policies related to the physical availability of alcohol, vehicle use limitations, advertising and promotional restrictions, and drinking environment, such as host and server laws. The IAPII was developed to measure the impact of several alcohol-related policies on injury rates within an international context and is one of the only measures that includes policy enforcement.
The study used data from 62 emergency departments in 28 countries and included over 14,000 injured patients. Interviews were conducted within six hours of receiving the injury and included questions about their alcohol consumption and if they associated their drinking with the injury.
Federal Parity
In an assessment of whether alcohol treatment admissions increased after federal parity was implemented, and if this depended upon state laws, researchers analyzed alcohol admissions data from SAMSHA's Treatment Episode Data Set (TEDS-A). Data were from a 15-year period — 1999 to 2013 — that included two million alcohol-related treatment admissions per year across 45 states and the District of Columbia.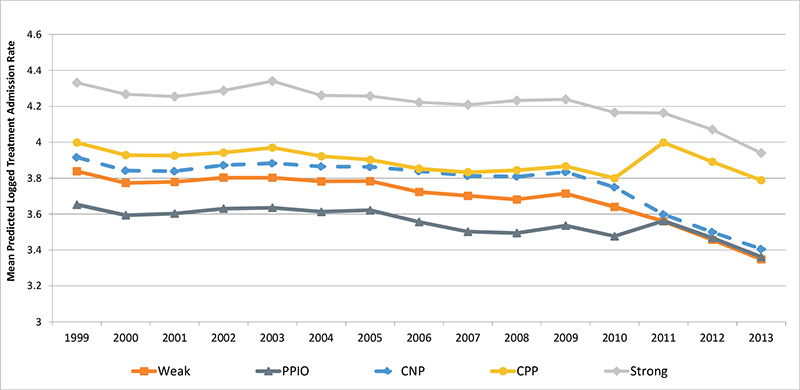 Overall, there was no significant change in US alcohol treatment rates after the MHPAEA. However, when considering the local parity laws, the MHPAEA impacted CPP states saw a significant increase in alcohol treatment admission rates.
This may be due to these states requiring coverage of alcohol treatment and also having the experience and administrative infrastructure to support parity, enabling them to implement and benefit from the federal law more quickly than states with weaker or no prior parity laws.