Since 1977, the National Alcohol Research Center has conducted critical research on how we drink and how alcohol consumption impacts our lives. It has also assessed policies to determine how best to curb the harms that drinking causes to the individual, their families and communities. The current Center's work has focused on disparities with the goal of reducing alcohol-related inequities between groups through the application of specific methods and sub-population analyses.
Within the current funding cycle, the Center has published studies in peer-reviewed journals, presented at  national and international conferences, and supported numerous affiliated national and multi-national research projects. From this body of work, we've compiled some of the most noteworthy findings.
Each year, one in five U.S. adults — an estimated 53 million people — experience harm because of someone else's drinking.
Using data from the National Alcohol Survey, we found 21% of women and 23% of men experienced harm because of someone else's drinking in the last 12 months.
These harms included threats or harassment, vandalism, physical aggression, harms related to driving, or family problems.
---
Cancer survivors were more likely to report heavy drinking and more frequent heavy drinking occasions compared to others at the same ages with similar drinking histories. Heavy drinking was defined as having five or more drinks at any one time.
When racial and ethnic group-specific effects were evaluated, this increased heavy drinking was found to occur among women and Whites, while no increase was found among Blacks or Hispanics.
Results also suggest that hypertension and having a serious injury did not affect post diagnosis heavy drinking. However, when assessing people diagnosed with heart problems or diabetes, these individuals actually cut back on their heavy drinking.
---
There has been a sharp increase in marijuana use in the U.S. since 2005 with 12.9% of the population reported using marijuana in 2015, compared to just 6.7% 10 years earlier.
Marijuana use among women has almost doubled, from 5.5% in 1984 to 10.6% in 2015. Men's use declined from the 1980s to 2000 but has since increased to 14.7%, matching earlier rates. According to the study,
However, the research suggests that these increases in use were not specifically associated with medicinal or recreational marijuana legalization.
---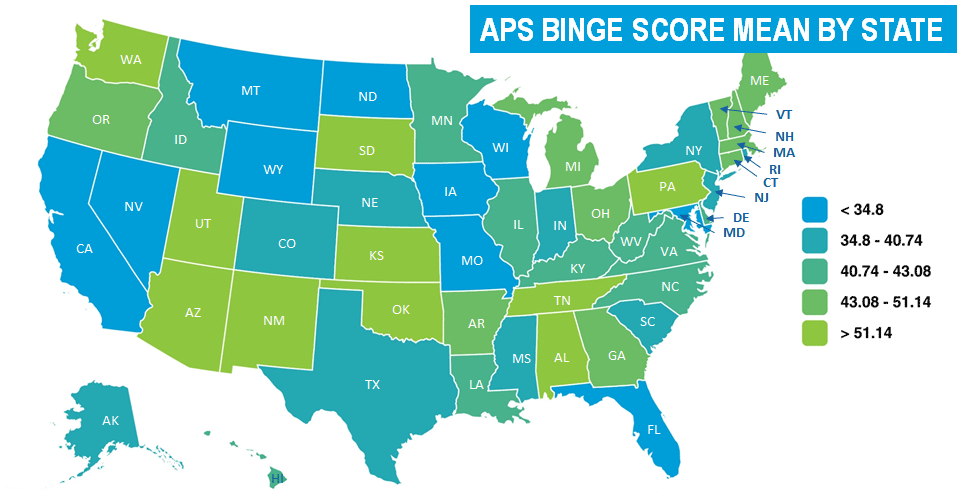 In the US, adults under age forty living in states with more restrictive alcohol policies experience fewer aggression- and drink-driving-related harms from someone else's drinking than those in states with weaker policies our study found.
Results showed that for a 10-point increase in restrictiveness of an alcohol policy scale, including for instance alcohol availability, taxation and drink-driving laws, the odds of experiencing such secondhand harms was 16% lower.
---
Even one intoxication event can increase the risk of injury.  Injury risk peaked at one hour of a blood alcohol concentration (BAC) of 0.05 or higher and at one day with five or more drinks and remained at about the same level for more frequent heavy drinkers.  Many counties use a BAC of 0.05 or more to determine drinking driving offenses and Utah will become the first US state to set this limit in 2019.
This is the first study to use BAC to measure hours of alcohol exposure when analyzing injury risk.  Most studies define exposure as having consumed five or more drinks.
---
The study looked at whether alcohol treatment admissions increased after federal parity was implemented, and whether this depended upon state laws. Researchers analyzed alcohol admissions data from SAMSHA's Treatment Episode Data Set (TEDS-A) over a 15-year period from 1999 to 2013 and included two million alcohol-related treatment admissions per year across 45 states and the District of Columbia.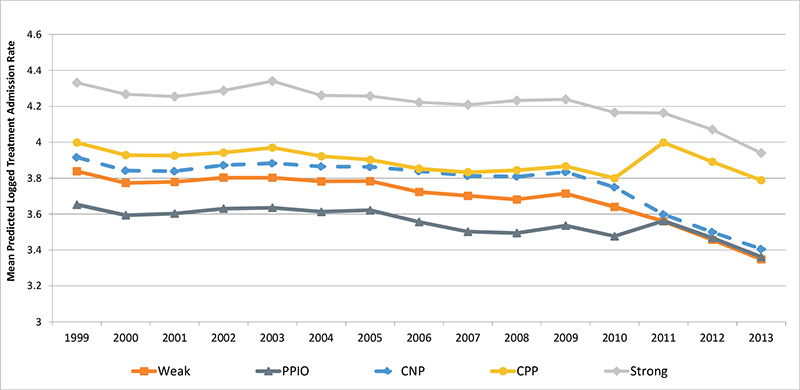 Overall, there was no significant change in US alcohol treatment rates after the MHPAEA. However, when considering the local parity laws, the MHPAEA impacted CPP states which saw a significant increase in alcohol treatment admission rates. This may be due to these states requiring coverage of alcohol treatment and also having the experience and administrative infrastructure to support parity. This could have enabled them to implement and benefit from the federal law more quickly than states with weaker or no prior parity laws.
---
Increasing taxes on specific types of alcohol and implementing policies that reduce its availability have differing effects on specific subgroups. The study was the first to address gaps in alcohol policy research by examining how such broad-based initiatives aimed at reducing drinking and its related consequences vary across gender and racial/ethnic groups.
Results showed that increased state beer taxes led to an overall reduction in beer consumption and volume in the general population.
However, when analyzing subgroup effects, only white and African American women drank less beer while the latter group also consumed a lower percentage of alcohol by volume.
---
The US drinking norms enables practitioners to compare a client's current consumption level to how much the rest of the nation is drinking. Available as a PDF or infographic, the norms chart has been downloaded over 1500 times and used by clinicians across the US.
Data from the 2015 National Alcohol Survey (NAS) consisting of individuals residing in 50 states and Washington DC was used to determine the number of drinks both women and men said they consumed per week on average in the previous 12 months. Total consumption percentages were also assessed.
---
Over a 10-year period, the amount women drank and why some abstained from drinking varied across racial/ethnic groups and by age. Between 2000 and 2010, abstinence among White and Black women over age 40 decreased, while at-risk drinking among White women of the same age increased.  The study defined at-risk drinking as consuming more than three drinks on any day or more than seven drinks in a week as per the U.S. low-risk drinking guidelines.
Over the same decade, older White and Black women were less likely to cite possible health concerns as a reason not to drink, and older White, Black and Latina women were less likely to cite religious concerns. Among younger women, choosing not to drink because of health concerns declined during the study period.
---
Although the health effects of discrimination have been widely studied, this systematic review was the first comprehensive assessment of the research specifically on alcohol use.  Researchers reviewed 97 studies, seeking to summarize not only what is known about the relationship but also how that knowledge was produced.
Results found that the majority of studies focused on racial/ethnic discrimination, followed by smaller numbers on sexual orientation and gender discrimination.  However, not all population groups were equally represented.